6/9: Improvisations in Dependence is a chapbook by Jesus Crisis published on July 4th 2009 by Crisis Chronicles Press in a limited edition of 69 signed and numbered copies. It consists of poems and prose associated with June 2009, the fifth anniversary of the author's release from prison, and addresses the recent deaths of celebrities like Michael Jackson and David Carradine. It also touches upon what it's like for a man who knows he poses no threat to society to have to register as a sex offender 17 years after his alleged crime.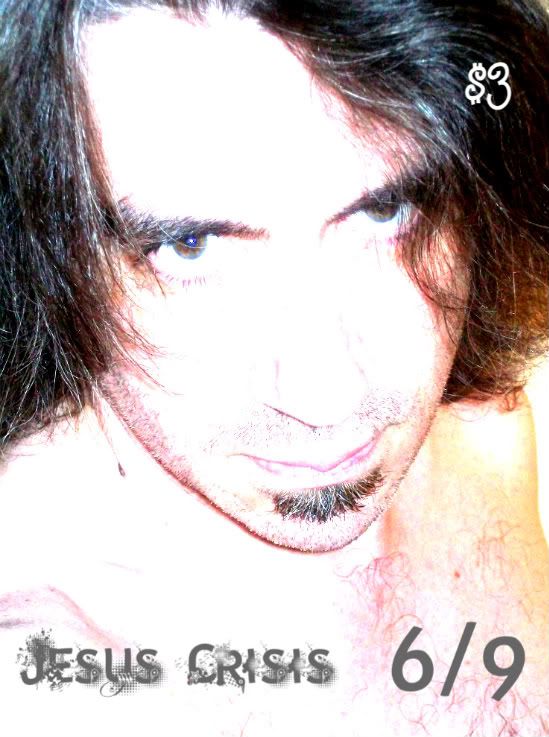 Crisis Chronicles Press
3

431 George Avenue


Cleveland, Ohio 44134
After the initial print run, we printed a number of unnumbered copies on demand. Thus there are approximately 200 total copies in print. As of May 2014, we still have three copies left for sale, and when they are gone we will not reprint it.

6/9: Improvisations in Dependence is 14 pages, 8.5" x 5.5", inkjet printed on white paper and saddle staple bound with pale blue card stock. Design and cover photo by the author/publisher.
Contents include:
Karma Souptra
"One of the Most Illuminating"
Tol' Story
Met a Mat, a Door I Didn't Like
17 June 2009
Do Dew
Rough Love
Preacher Gunn
Tell a Vision
rip


Poet's biography (as of 2009, from the chapbook):
Jesus Crisis, a.k.a. John B. Burroughs, is a playwright, pacifist, composer and seeker in Elyria, Ohio. His work has appeared in dozens of print and online publications since 1983, and his first chapbook, Bloggerel, was published by Crisis Chronicles Press in June 2008. His second, Identity Crises (with Doug Manson and Bree), was published by Green Panda Press in February 2009. Founder of the Crisis Chronicles Online Library and co-host of the Lix and Kix poetry series in Cleveland, JC is in the process of writing a book about his 11 years in prison. Discover more at www.crisischronicles.com.
Click here to read "Met a Mat, a Door I Didn't Like" from 6/9 at Other Voices International.
Click here to read reviews of 6/9: Improvisations in Dependence at Goodreads.
Click here to read reviews at Amazon.